Auto profiling to closure: Close more deals with effective lead management.

Manage customers and post sales activity, Payment collection and followup.

Optimize inventory with complete order fulfillment solution with approval.

Simple solution for Project BOQ, estimation, work orders, measurement and billing.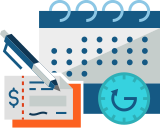 A refreshing way to HR, timesheet, attendance, leave and payroll processes.

Ultimate Guide for handing over with instant report from execution to payment.

We produce reports which makes sense, shows trends and helps to take decision.

Customer self service login for instant access, customer service request.

Tickets across the organization and it's history makes everyone accountable.